Finally announced vSphere7 (ESXi7, vCenter7), but what I care about is the supported OS.
This article focuses on Windows Server supported vSphere 7.0.
List of Windows Server OS supported by ESXi7
Guest OS check procedure supported by vSphere ESXi 7
You can search compatibility in VMware Compatibility Guide.
First, access the following URL.
]VMware Compatibility Guide - System Search
So, let's click "Search category = GuestOS".
Select [ESXi] from [Product Name]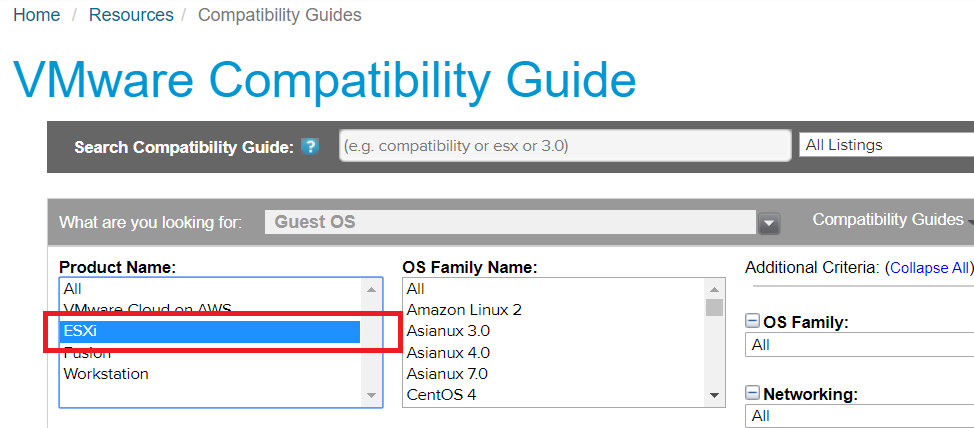 Select [ESXi 7.0] from [Product Release Version:]
Select [Microsoft] from [OS Vendor]
Click [Update and view results] to display the list
List of other OS compatibility
| RHEL | 64bit/32bit | Support(o) / non-support(x) | Memo |
| --- | --- | --- | --- |
| RHEL 8.x | 64bit | o | |
| RHEL 7.x | 64bit | o | |
| RHEL 6.x | 64bit | o | |
| RHEL 6.x | 32bit | o | |
| RHEL 5.x | 64bit | o | Legacy Support |
| RHEL 5.x | 32bit | o | Legacy Support |
| RHEL 4.x | 64bit | o | Legacy Support |
| RHEL 4.x | 32bit | o | Legacy Support |
| RHEL 3.x | 64bit | o | Legacy Support |
| RHEL 3.x | 32bit | o | Legacy Support |
related articles
[EOL]